P.S Winter is beautiful too, but we aren't set up for the Winters yet…so sorry.
Welcome to Brevort~Lake~Cabins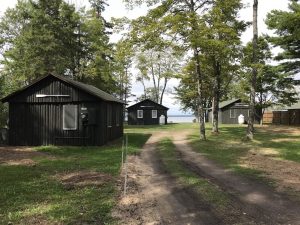 Take a Photo Tour!
We have 3 Rustic rental~log~cabins.  Two are lakefront, each have 2 bedrooms & 1 bath, plus a Bunkhouse cabin, all cabins sleep 6.
Ideal for "Family Reunions", Events, or fishing/hunting trips.  Rent part or the whole property for your special event.  Pet-friendly.
For additional information & reservations call: Yvonne Beck
(586) 946-0196 or e-mail 
Check~in Saturday 3:00 p.m. to Saturday  Check ~out 11:00 a.m.
Staying less than a week?
~Lakefront cabins 1 & 2, weekly rate:  $1,200 per week.  $250.00 per night 
~Bunkhouse, weekly rate: $900.00.  $195.00 per night 
~$100.00 fully refundable cleaning deposit.
~$15.00 per pet, per night.
~$200.00 rental deposit holds your reservation, non-refundable.
Why does the Bunkhouse cost less?  The Bunkhouse sits back off the water's edge about 60′.  sleeps 6.  Amenities include a kitchen & bathroom with shower, bbq, fire ring at the lakeside, access to dock and rowboats on a first come first served basis.
---
The "UP" Upper Peninsula of Michigan. Brevort Lake is just 17 miles north of the Mackinac Bridge and St. Ignace, Michigan.  Our Brevort Lake Rental Cabins, (formerly White Birch Resort) are Children and pet-friendly.  
We're open Spring, Summer & Fall.  Open May-October.
Although I don't "fish", my fisherman family & friends tell me the Spring is a most excellent time to do so…I'm more into looking at the lake, taking walks with my loved ones, the campfires, and the nightly sunsets.  To each his own. 🙂
Fall Colors, Fall Color Tours, Hunting Season through "Bow Hunting Season".
Pet-Friendly, $15.00 per night, per pet
Into fishing? New report just in…fish, fish fish! Lots of fish @ Brevort~Lake~Michigan this year!  Pike, Walleye, Perch, Trout, and Bass!   Boat launch nearby.
Come . . . Enjoy . . . Relax.  Brevort~Lakefront~Rental~Cabins aka (White~Birch~Resort) offer the most fantastic sunsets and activities for the family,  including; swimming, sandy~beaches, boating, fishing, fishing, fishing…hiking, bonfires, barbecuing, nature~walks, & star~gazing.
Nearby attractions to Brevort~Lake~Michigan are the Mackinac~Bridge, St.~Ignace, Mackinac~Island, where the famous love story "Somewhere~in~Time" was filmed.  Be sure to pick up some Mackinac~Island~fudge!
Into Gaming~Casinos?  The~Kewadin~Casino is beautiful and located right on the great~Lakes.  My Mom tells me @ The~Kewadin~Casino the "slot~machines" are loose. 😉  Looking forward to hearing from you.
Yvonne